Fallujah fully liberated, battle over – commander of anti-ISIS op in Iraq
[youtube https://www.youtube.com/watch?v=J1FOt5OasiU]
Fallujah has been fully liberated from Islamic State (IS, formerly ISIS/ISIL), a senior Iraqi commander told AP after the army regained control over the last area in the city under IS control. Fallujah had been under terrorist control since January 2014.
Iraqi troops have entered Fallujah's northwestern al-Julan neighborhood, the last remaining stronghold of IS militants in the city.
"We announce from this place in central Golan district that it has been cleaned by the counter terrorism service and we convey the good news to the Iraqi people that the battle of Falluja is over," Lieutenant General Abdul Wahab al-Saidi told state TV.
Troops will now start working on removing bombs from streets and houses.
BREAKING: Commander leading Iraqi operation against Islamic State group in Fallujah declares the city 'fully liberated'

— The Associated Press (@AP) June 26, 2016
Earlier statements of full victory in Falluja were made back in mid-June by Iraqi Prime Minister Haider Abadi, but street-to-street fighting in the city continued for more than a week.
On June 17, the counter-terrorism service and the rapid response forces claimed retaking the government compound in the center of Fallujah and the Iraqi flag was raised over the mayor's compound. At that time authorities acknowledged that a significant part of the city was still under the control of Islamic extremists.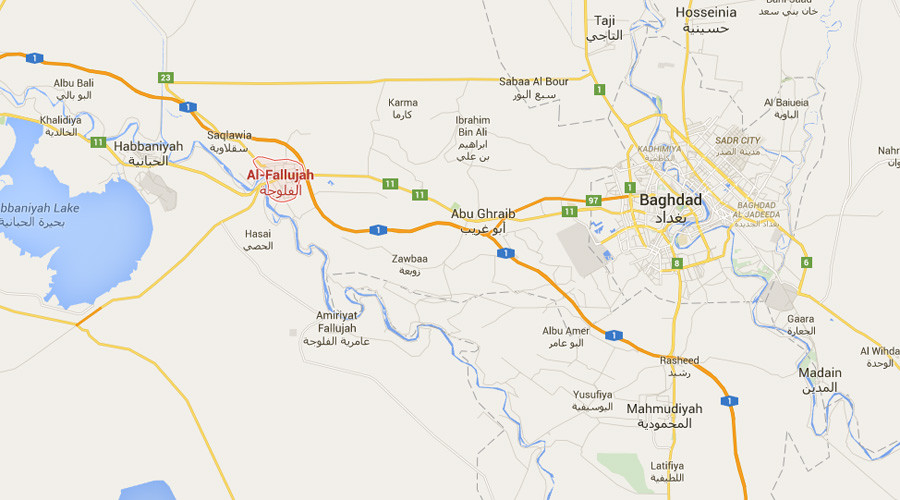 © Google Maps
The terrorists have been using Fallujah as a major location to produce handmade explosive devices and car bombs.
Now that Fallujah is fully free of IS fighters, the Iraqi government is likely to concentrate on launching an offensive against terrorist-controlled Mosul, the country's second-largest city.