'Dirty Duterte' on the Ropes as ISIS, US Special Forces Crash the Philippines
Philippines President Rodrigo Duterte has found himself in a perilous situation, as Islamic State-linked militants continue a siege in the country's south, while US Special Forces have arrived to lend 'technical support.' What could possibly go wrong?
Just last month, Rodrigo 'Dirty' Duterte appeared to be riding high on the tiger of geopolitics with surprising authority. He had just served notice to the United States that, although he considered Donald Trump a "friend," he would be realigning his foreign policy trajectory towards Russia and China. This punch to American pride came after he had requested more than once that US soldiers stationed in the Philippines pack up their gear and go home.
In other words, Duterte, failing to understand that the US superpower plays for keeps, was seeking to terminate US-Philippines relations with an amicable separation, as opposed to a full-blown bitter divorce.
"I have nothing against America, [President Donald] Trump is my friend. But my foreign policy has shifted. I want to deal with China and Russia. Because in the Western world, it's double talk," he said, before going into full-blown dirty Duterte mode as he twisted the rubber knife, as it were. "You (the United States) treat me as if I am your colony still? You must be kidding! We are an independent country. I want my country treated with dignity," he railed.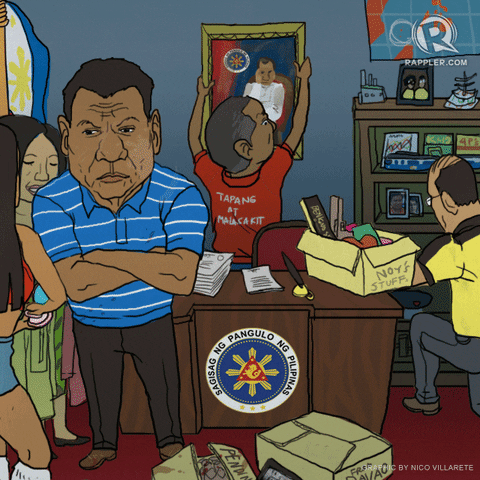 At this point, you could almost hear US fighter jets revving up their engines in the distance.
What is so unsettling about Duterte's patriotic rant is that similar sentiments have been expressed many times before by other proud leaders, many of whom– together with their countries – went on to meet a tragic end, courtesy of the US military. Saddam Hussein and Muammar Gaddafi come to mind.
These two leaders made the deadly mistake of being in the wrong place at the wrong time (i.e. sovereign leaders of their sovereign states) as Uncle Sam – playing judge, jury, and executioner – unilaterally condemned them and their people to senseless death and destruction. But I digress.
On May 23, Rodrigo Duterte was tossed like a rag doll from the tiger and left scampering for cover. Islamic State-linked militants mounted a siege in Marawi, a Muslim-dominant city on the southern island of Mindanao, forcing Duterte to declare martial law. A heavy footnote here is that Mindanao is where over 100 US Marines and Special Forces have been on rotational duty for many years.
So how have these US military assets been occupying themselves all these years? Certainly not by knitting quilts. Speaking on condition of anonymity, a US official was quoted by Reuters as saying US military support included a P-3 Orion surveillance plane that provides "aerial surveillance and targeting, electronic eavesdropping, communications assistance." How the ragtag band of jihadis managed to mount their siege without prior warning from all this flashy surveillance technology is a question worth considering.
More perplexing, however, is that Duterte – a day after the US Embassy in Manila confirmed the presence of US troops in Marawi – said he never asked for such assistance. "I never approached any American to say 'Help us,'" Duterte told a press conference, according to Rappler, a Philippines news site. Or is Duterte simply too proud to admit he needs US assistance in this emergency? The US Embassy in Manila said the Duterte government had asked for assistance.
Meanwhile, the jihadist incursion of Marawi also forced Duterte – aside from declaring martial law – to cut short a trip to Moscow, as well as a meeting with President Putin. How's that for coincidence theory? But was any of this really unexpected?
The impetuous Philippines leader, in his haste to announce independence from American suzerainty, seems to have seriously underestimated recent US power moves in the South China Sea. This was no trivial pawn move on the global chessboard, but rather an entirely new concept of American strategy known in think-tank circles as the 'Asia Pivot.' If Duterte somehow thought the Philippines, with its strategic proximity to China, did not figure into the game, he was sadly mistaken. Does any of this sound familiar?
Another ISIS crisis to be 'solved'
Who could fail to see the parallels between the situation in the Philippines with that of Syria, where the US military, initially prevented from carrying out any sort of military action, eventually got the green light thanks to the arrival of a little-known, ultra-violent terrorist group called 'Islamic State' [IS, formerly ISIS/ISIL]. Now the United States believes it has acquired some sort of moral authority for carrying out what amounts to the illicit invasion of yet another sovereign state.
However, that is just the beginning of the strangeness. Many have questioned how IS, bereft of any sort of sophisticated fighting apparatus – not least of all an air force – could have continuously evaded the mighty US military, even as the terrorist convoys traveled across wide-open desert in broad daylight between Iraq and Syria.
Professor Michel Chossudovsky, writing in Global Research, forwarded the question so many people have been asking: "Why has the US Air Force not been able to wipe out the Islamic State, which at the outset was largely equipped with conventional small arms not to mention state of the art Toyota pickup trucks…The Syro-Arabian Desert is open territory. With state of the art jet fighter aircraft (F15, F22 Raptor, F16), it would have been – from a military standpoint – a piece of cake, a rapid and expedient surgical operation, which would have decimated the Islamic State convoys in a matter of hours.
Instead, what we have witnessed is an ongoing drawn out six months of relentless air raids and bombings, and the terrorist enemy is apparently still intact," Chossudovsky concluded.
For anybody who doubts the veracity of that assertion, a declassified US document, obtained by government watchdog Judicial Watch, shows that US policymakers actually encouraged the growth of Islamic extremist groups as a way to "isolate the Syrian regime."
The heavily redacted document notes, among other disturbing revelations, "the possibility of establishing a declared or undeclared Salafist Principality in eastern Syria (Hasakah and Deir ez-Zor), and this is exactly what the supporting powers to the opposition want, in order to isolate the Syrian regime, which is considered the strategic depth of the Shia expansion (Iraq and Iran)."
At 103rd Brigade pic.twitter.com/NWgiN8VfJN

— Frannyy 🤎 (@Frannyy) June 13, 2017
Earlier on, the document describes those "supporting powers" as "the West, Gulf countries, and Turkey."
These highly disturbing factors, compounded by the US military's tendency to strike pro-government Syrian forces, either "accidentally" or deliberately, suggest that the US-led Western forces would rather take their chances with the vilest terrorist forces on the planet than work with the popularly supported leader of a sovereign state, Syrian President Bashar Assad.
Back to the Philippines. Although Duterte pledged to remove the IS-linked Maute group from Marawi by June 12, that deadline has come and gone, and despite the purported assistance of the global superpower. In fact, the situation on the ground is becoming nothing short of horrific.
Zia Alonto Adiong, the Governor of Lanao del Sur province, said scores of bodies are lying in an area that saw heavy gunfire.
"Dead bodies, at least 100, scattered around the encounter area," Adiong told reporters, according to Reuters. He added the unsavory detail that locals trapped in the middle of the fighting have resorted to "eating cardboard boxes" out of hunger.
Clearly, President Rodrigo Duterte – like Syrian President Assad – is facing the ultimate challenge to his presidency. And considering his past pledge to realign Philippine foreign policy away from Washington and towards Moscow and Beijing, the question is an obvious one: Are those US Marines and Special Forces in the Philippines, which, as in Syria, appeared without invitation, there to help the Duterte government, or do they have other ideas in mind, which will only become painfully apparent when it's too late for the Philippines leader?
As is the case with Syrian President Assad, time will tell what is in store for President Rodrigo Duterte of the Philippines. My personal hunch is nothing good.
---
By Robert Bridge
Source: RT