US flies all 3 types of bombers in strategic power projection stunt over Guam
In an unprecedented show of military power, the US Air Force has for the first time flown all three of the country's strategic bombers B-52, B-1B, and B-2 in one formation in the vicinity of disputed waters that China has repeatedly vowed to defend.
Three of the US Air Force Global Strike Command's "strategic power projection bombers" simultaneously took off on an integrated bomber operation over Andersen Air Force Base in Guam. The B-52 Stratofortress, B-1B Lancer and B-2 Spirit, conducted a joint drill over the disputed east Asian region.
[youtube https://www.youtube.com/watch?v=PbToLT6GEbQ]
"Though all the aircraft have deployed independently to the US Pacific Command's (USPACOM) area of responsibility in the past, this was the first time all three bombers flew a formation pass over Andersen Air Force Base, dispersed and then simultaneously conducted operations in the South China Sea and Northeast Asia," US Pacific Command said in a statement.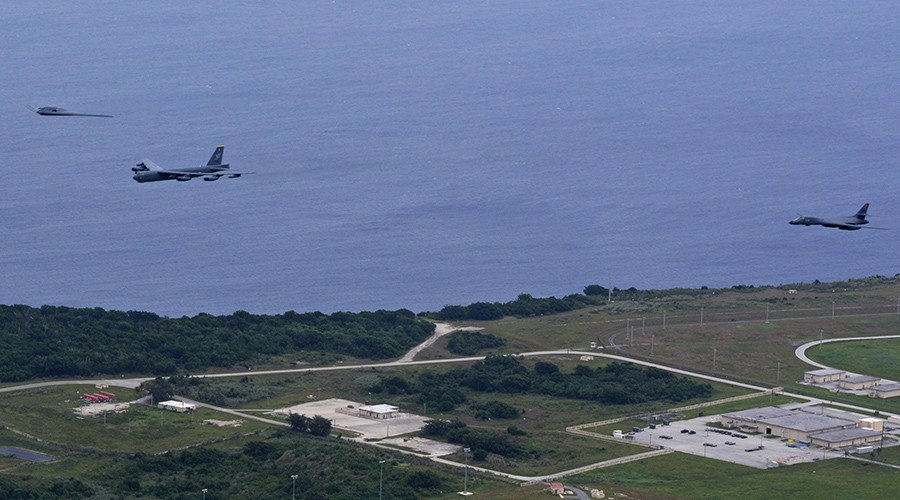 A US Air Force B-52 Stratofortress, B-1 Lancer and B-2 Spirit launch from Andersen Air Force Base, Guam, for an integrated bomber operation Aug.17, 2016. © U.S. Air force
"USPACOM's area of responsibility covers 52 percent of the globe, which makes strategic bombers an effective long-range global attack capability, assuring our allies while deterring potential adversaries."
The statement noted that the drills offered the opportunity for bomber crews to "integrate and train" with US allies in the region and to strengthen American capabilities in the geographic area near Andersen's base.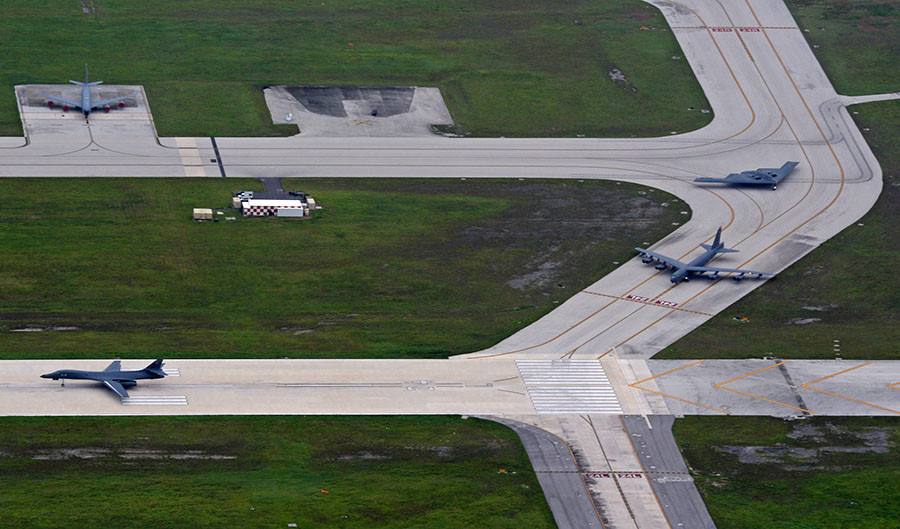 A US Air Force B-52 Stratofortress, B-1 Lancer and B-2 Spirit taxi in preparation for an integrated bomber mission at Andersen Air Force Base, Guam, Aug.17, 2016. © U.S. Air force
"Training deployments such as these are meant to maintain crew readiness and provide unique training opportunities," said Lt. Col. Keith Butler, 13th Bomb Squadron director of operations. "It also gives us the chance to work with other bomber aircraft we have inside Air Force Global Strike Command as well as some of our regional allies and partners for national security and deterrence in this part of the world."
The wide range of strategic air power that flew the mission on Wednesday was sent in the wake of North Korean nuclear and ballistic missile tests and Beijing's claims over the South China Sea.
"This mission demonstrated the US commitment to supporting global security and our ability to launch a credible strategic defense force," said Brig. Gen. Douglas Cox, 36th Wing commander.
The US sent a group of B-1 Lancers to the Pacific on August 6 to join and consequently replace the B-52's already stationed in Guam as part of the Pentagon's Continuous Bomber Presence (CBP) mission.
A few days later, the Air Force announced that a group of B-2 Spirits was sent to join the aircraft fleet on Guam to aid the "bomber assurance and deterrence deployment."
While the Command noted that global strategic bomber deployments are part of a "long-standing history" of maintaining a consistent presence in the region to provide assurance to US allies, North Korea threatened retaliatory actions over the recent American buildup in Guam.
Last week, following the recent deployment of B-1s and B-2s to join B-52s in Guam, the Korean Central News Agency (KCNA) accused the "US imperialists" of preparing a "preemptive nuclear attack on the DPRK."
The deployment, Pyongyang said will force the state to take "merciless retaliatory counteraction" against the US, with the North saying that a "preemptive nuclear strike is not a monopoly of the US."
China too has repeatedly warned against a growing US presence in the region, saying that US strategic bombers pose a national security risk to China which lies only 1,800 miles from Guam.
Source: rt.com